Shaving is a HASSLE and UNWANTED HAIR are EMBARRASSING. On average women shave EVERY 1-3 Days and a recent study shows that Shaving is The Most HATED Beauty Routine by Women!

Imagine Not Having to Worry About Shaving Before a Night Out, Time With Your Partner, or in Your Day-to-Day Routine. Our Natural and Effective Spray is your solution.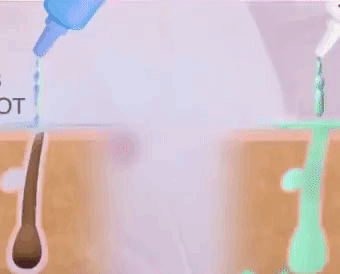 STEPS:
1. With Your Hair Removal Spray - Spray The Target Area and Leave On For 8 Minutes.
2. Rinse Area With Water and Wipe Away With a Cloth.
3. Apply Your Hair Prevention Spray to Freshly Hair Free Area and Let Dry.
4. Experience and Enjoy Smoother Hair Free Skin! YOU CAN USE ON YOUR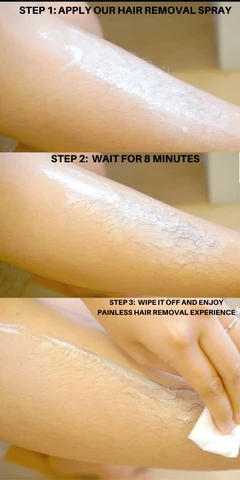 YOUR NATURAL HAIR REMOVAL AND PREVENTION KIT
YOUR SKIN WILL THANK YOU
EFFECTIVE Hair Prevention in average of 4 WEEKS
30ml and 20ml Bottle
8 Minute Routine
All NATURAL Ingredients
Suitable For ALL Skin Types and Sensitivity
Thin SLOW Re-Growth
SMALLER Hair Follicles
YOU CAN AVOID AND PREVENT
Razor Bumps, Cuts, Razor Burn, Irritation AND Redness, Ingrown Hairs, Dry Itchy Skin, Rough Stubble, AND MORE! NATURAL, ALLERGEN FREE
ALL INGREDIENTS:
Water, Natural Plant Extracts, Mineral Oil, Allantoin, Calcium Thioglycolate, Glyceryl, American Witch-Hazel, Lady's Mantle, Hyaloronic Acid, and Aloe Vera. USING YOUR PAINLESS HAIR REMOVAL AND PREVENTION KIT
OUR GUARANTEE We Care For Our Customers and Offer a Risk-Free 30 Day Money Back Guarantee.